Visa Credit vs MasterCard Credit
Que vous soyez un connaisseur des casinos en ligne ou un joueur occasionnel, vous avez probablement entendu parler de VISA et de MasterCard. Ces services sont populaires dans le monde des casinos en ligne et sont disponibles sur la plupart des sites de jeux en ligne qui utilisent des méthodes de paiement traditionnelles. Bien entendu, la popularité de ces cartes bancaires dépasse largement le cadre des jeux d'argent en ligne. On les trouve dans presque tous les domaines de la vie, des loisirs aux produits de première nécessité. Il y a de nombreuses raisons pour lesquelles ces deux méthodes sont si populaires, mais cela ne signifie pas que d'autres services ne proposent pas des offres similaires. Une question se pose alors : pourquoi utiliser VISA ou MasterCard dans les casinos en ligne ? Dans le texte ci-dessous, nous allons tenter de vous apporter une réponse.
À Propos de VISA et MasterCard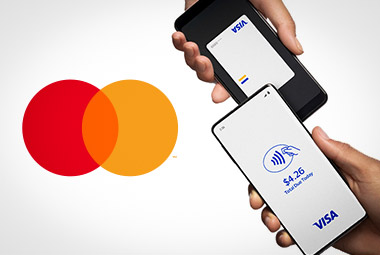 VISA est une option de paiement que la plupart des gens connaissent. Lancée en 1958, elle est à ce jour l'une des rares marques à avoir réussi à survivre et à prospérer sur une aussi longue période. Ce service a une histoire intéressante. Créé par la Bank of America, il s'agissait au départ d'un vieux projet visant à automatiser le processus de facturation à l'aide d'un système informatique. Le projet a connu un succès immédiat et, en peu de temps, il s'est développé pour lancer le premier programme de cartes de crédit de l'histoire ! En effet, c'est à VISA que l'on doit la création des cartes de crédit modernes.
Aujourd'hui, la marque est connue dans le monde entier. Il s'agit de l'une des options de paiement les plus répandues et elle est utilisée pour presque tout ce que vous pouvez imaginer. Si un objet peut être acheté ou vendu, VISA est probablement sur le coup ! Bien entendu, cela s'applique aussi bien aux biens et services en ligne qu'aux biens et services hors ligne. Ce qui fait de ce service la puissance qu'il est aujourd'hui, c'est son énorme réseau mondial. Il est le plus grand de tous les services de traitement des paiements et il collabore régulièrement avec tous les acteurs, des gouvernements mondiaux aux grandes institutions financières.
Il y a de nombreuses raisons pour lesquelles VISA est une méthode de choix pour les amateurs de jeux d'argent en ligne, mais les principales sont sa sécurité, sa fiabilité et sa praticité. Pour garantir la sécurité des joueurs dans leurs activités de jeu en ligne, le service met en œuvre une authentification à deux facteurs. Naturellement, il s'agit d'une avancée par rapport à la plupart des autres options de paiement. La facilité d'utilisation du service est le prolongement de son accessibilité. La plupart des gens possèdent déjà une carte VISA. Il leur suffit d'entrer leurs coordonnées bancaires dans le casino de leur choix, et le tour est joué ! Même si vous ne possédez pas de carte du service, vous pouvez en obtenir une facilement. Recherchez une banque près de chez vous et demandez-en une. L'institution financière dans laquelle vous vous rendez collabore probablement avec le service.
MasterCard est un autre service de carte bancaire qui a une longue histoire derrière lui. À l'origine, ce service était une organisation de membres fondée aux États-Unis par quelques institutions financières puissantes. Il s'agissait notamment de Wells Fargo, Crocker National Bank, Bank of California et United California Bank. En peu de temps, l'organisation s'est développée de manière exponentielle, comptant des milliers d'institutions financières dans sa longue liste d'actionnaires. Il n'a pas fallu longtemps à MasterCard, alors connue sous le nom de Master Charge, pour gagner en notoriété à l'échelle mondiale. Une fois qu'il a dépassé les frontières des États-Unis, le service a fait l'objet d'un changement de marque et a lancé ses premières cartes bancaires.
À l'instar de VISA, la puissance de MasterCard réside dans son énorme influence mondiale. Le service est disponible dans plus de 180 pays, ce qui le place juste derrière la méthode dont nous avons parlé précédemment. Quoi qu'il en soit, cette méthode est le premier choix de beaucoup, dans plus de domaines que vous ne pouvez en compter ! Elle est utilisée pour les achats dans les supermarchés, les grands détaillants en ligne, les services locaux, etc. La plupart des gens que vous rencontrerez sauront probablement de quoi vous parlez si vous évoquez MasterCard. Il est donc certain que ce service peut ouvrir de nombreuses portes dans le domaine des jeux d'argent en ligne, et en dehors de celui-ci.
Il n'est pas difficile de constater que VISA et MasterCard présentent de nombreuses similitudes. Les deux services sont connus pour leurs cartes bancaires, qui sont à la fois fiables, pratiques et extrêmement sécurisées. Bien entendu, cela n'est pas surprenant étant donné que ces services sont des concurrents directs et qu'ils sont actuellement les options bancaires les plus connues au monde. Outre les aspects positifs, ces méthodes présentent également des inconvénients similaires. Nous y reviendrons un peu plus loin dans ce texte.
Démarrer avec les Deux Méthodes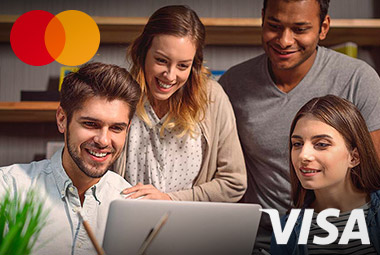 La procédure d'obtention de VISA et de MasterCard est très similaire. Comme les deux services sont des cartes bancaires traditionnelles, il faut se rendre dans un établissement physique et éventuellement s'entretenir avec un guichetier.
Commençons par le fonctionnement de VISA. Pour commencer, les utilisateurs doivent se rendre dans une banque ou une institution financière partenaire et demander une carte. Naturellement, c'est l'une des parties les plus simples du processus. Grâce à l'immense réseau mondial du service, vous trouverez un établissement partenaire pratiquement à chaque coin de rue. Rendez-vous à l'endroit de votre choix et lancez-vous. Avant d'entamer le processus, vous devez décider si vous voulez une carte de débit ou de crédit VISA. Tenez compte de ce que nous avons dit précédemment et choisissez l'option qui convient le mieux à votre situation.
Une fois que vous avez entamé la procédure, vous devez remplir quelques formulaires. Il s'agit sans doute de la partie la plus éprouvante de la demande de carte bancaire. Dans ces formulaires, les utilisateurs devront saisir des informations telles que leur adresse, leur numéro de téléphone, leur nom, mais aussi répondre à quelques questions personnelles concernant leurs finances et d'autres domaines de la vie. Il peut être un peu gênant de répondre à ces questions, mais la seule personne qui y a accès est généralement la banque elle-même. Lorsque vous avez terminé, soumettez les formulaires accompagnés d'une pièce d'identité avec photo en cours de validité pour confirmer votre identité. Un permis de conduire ou un passeport devrait suffire.
Le processus d'obtention d'une carte MasterCard est pratiquement identique. L'émission d'une carte bancaire est un processus standardisé, de sorte que la marque de la carte importe moins que les détails minutieux imposés par la banque qui l'émet. MasterCard étant un autre grand nom du monde de la finance, il est facile de trouver une institution partenaire pour entamer le processus. Pour ce faire, il suffit de se rendre sur le site officiel de MasterCard et d'utiliser l'outil de localisation pratique qui y est proposé. Grâce à ce programme, vous recevrez instantanément la liste des banques partenaires proches de chez vous.
Avant d'utiliser l'une ou l'autre de ces méthodes, les joueurs doivent garder à l'esprit l'interdiction d'utiliser des cartes de crédit qui est actuellement en vigueur dans certaines régions. Dans des pays comme le Royaume-Uni et l'Allemagne, les cartes de crédit sont interdites pour les jeux d'argent en ligne. Même si cela ne devrait pas poser de problème aux joueurs en dehors de ces territoires, d'autres pays pourraient suivre cette tendance. Bien sûr, cela peut sembler très improbable aujourd'hui, mais c'est un élément à prendre en compte au moment de décider si vous devez vous procurer une carte de crédit ou une carte de débit.
Utilisation de VISA et MasterCard Dans les Casinos en Ligne
Comme nous l'avons déjà mentionné une ou deux fois, le plus grand avantage de l'utilisation de ces services est l'accessibilité qui vous est offerte dans le secteur des jeux d'argent en ligne. VISA et MasterCard sont des puissances dans ce domaine. Ce sont les méthodes les plus reconnaissables et les plus courantes disponibles sur la plupart des sites de jeux d'argent en ligne, et elles bénéficient donc souvent d'un traitement royal. Outre le fait qu'elles permettent d'accéder à presque toutes les plateformes de jeu imaginables, ces cartes sont souvent assorties d'avantages particuliers, tels que des bonus de casino. Ces avantages sont souvent limités avec d'autres méthodes, mais avec les cartes bancaires, les choses sont différentes.
Si vous avez décidé d'utiliser VISA comme principale méthode de dépôt dans les casinos en ligne, voici les étapes à suivre :
Rendez-vous sur la page Paiements/Opérations bancaires/Caisse du casino.
Recherchez le logo VISA dans la liste des méthodes acceptées et cliquez ou tapez dessus.
Dans la nouvelle fenêtre, entrez le numéro de la carte, sa date d'expiration et le numéro CCV2, si nécessaire, et indiquez votre nom en tant que titulaire de la carte.
Indiquez le montant que vous souhaitez déposer.
Acceptez la transaction et l'argent arrivera immédiatement sur votre compte.
Les joueurs ne devraient pas rencontrer de problèmes avec le processus de retrait via VISA. Les étapes de dépôt et de retrait avec ce service sont essentiellement les mêmes. La seule différence que les joueurs doivent noter est le léger changement dans la deuxième étape. Au lieu de chercher le logo dans l'onglet des dépôts, cherchez-le dans la section des retraits et cliquez dessus. Suivez les autres étapes énumérées ci-dessus comme d'habitude, et vous devriez avoir terminé en une minute ou deux.
Malheureusement, l'un des plus gros inconvénients de VISA refait surface lorsque vient le moment des retraits. Alors que des options comme les portefeuilles électroniques, les cryptomonnaies et d'autres méthodes modernes sont connues pour leurs retraits rapides, cette carte bancaire ne suit pas la cadence. Les retraits avec le service peuvent prendre de 3 à 5 jours, ce qui peut ne pas être idéal si vous vous dépêchez d'encaisser vos gains. Pire encore, cette période de traitement s'ajoute au temps d'attente standard imposé par les casinos. Vous devrez probablement attendre 5 à 7 jours pour que les retraits arrivent sur votre compte.
Si vous avez décidé d'utiliser la carte MasterCard pour effectuer un dépôt dans le casino en ligne de votre choix, vous constaterez que le processus est rapide et indolore. Les étapes sont pratiquement identiques à celles de la méthode précédente, vous devriez donc déjà être familiarisé avec cette procédure. Voici comment cela fonctionne :
Choisissez l'option "Dépôt par carte de crédit/débit".
Dans la liste des cartes de crédit/débit proposées, sélectionnez MasterCard comme option de dépôt.
Saisissez le numéro de la carte, sa date d'expiration, votre nom en tant que titulaire de la carte et le code CCV2 figurant au dos de la carte.
Indiquez le montant que vous souhaitez déposer et confirmez la transaction.
En un instant, les fonds arrivent sur votre compte !
Malheureusement, MasterCard souffre des mêmes défauts que VISA en matière de retrait. Tout d'abord, le retrait est une option un peu plus rare que le dépôt. Dès le départ, cela peut gêner certains joueurs, car cela implique de devoir ajouter une autre option bancaire pour combler l'écart. Le temps de traitement est un autre défaut majeur. Les retraits effectués avec ce service prennent entre 5 et 7 jours. Si la patience n'est pas votre fort, nous vous suggérons d'explorer d'autres options.
Avantages et Inconvénients
Après avoir lu ce texte, vous vous êtes probablement fait une opinion sur ces méthodes. En général, c'est une opinion positive ! Ces deux services ont beaucoup à offrir et, en tant que deux des méthodes de paiement les plus importantes actuellement sur le marché, ce sont des options à ne négliger sous aucun prétexte. Bien entendu, cela ne signifie pas que VISA et MasterCard soient sans défaut. Nous allons maintenant passer brièvement en revue les avantages et les inconvénients de ces deux services, afin de vous aider à choisir la méthode qui vous convient le mieux.
Choisir entre VISA et MasterCard est incroyablement difficile. Les deux services proposent des offres extrêmement similaires, ce qui fait qu'il est presque impossible pour les utilisateurs de choisir l'un ou l'autre. Les avantages des deux options commencent par leur histoire. Ce sont des marques mondiales bien établies qui ont prouvé à maintes reprises qu'elles étaient dignes de confiance. Ajoutez à cela leurs énormes réseaux mondiaux, et vous avez pratiquement un accès illimité à tous les recoins du secteur des jeux d'argent en ligne et hors ligne.
La sécurité de ce service n'est pas non plus négligeable ! Il est bien connu que les banques mettent en œuvre le niveau de sécurité le plus élevé qui soit, et comme les partenariats avec ces institutions financières sont au cœur de ces services, les joueurs peuvent être assurés que leurs comptes et leurs informations personnelles sont gardés sous clé.
Les inconvénients de ces services ne doivent pas non plus être ignorés. Si leurs atouts leur confèrent un avantage, leurs inconvénients peuvent constituer des obstacles majeurs pour certains utilisateurs. Il s'agit principalement des longs délais de traitement des demandes que proposent les deux services. Cela peut sembler infime pour certains, mais de longues périodes d'attente peuvent facilement gâcher l'expérience du jeu en ligne. Encaisser ses gains, c'est la moitié du plaisir, et ne pas avoir la possibilité de le faire rapidement peut mettre un frein à la célébration de la victoire.
L'interdiction des cartes de crédit est également un problème qui doit être abordé. Bien qu'il semble que la situation soit limitée au Royaume-Uni et à l'Allemagne, rien ne dit que d'autres pays envisageront de le faire également. Si vous préférez la praticité des cartes de crédit, vous serez peut-être déçu d'apprendre que cette option est exclue dans certaines régions et dans certains sites de jeu.
Il est pratiquement impossible de trouver des différences entre ces services sans pinailler. En fin de compte, le choix de l'une ou l'autre de ces options est une question de préférence personnelle. Les deux options proposent des offres similaires, et le choix de celle qui vous convient pourrait avoir plus à voir avec l'identité de la marque qu'avec les avantages associés aux jeux d'argent en ligne !
Casinos en ligne qui prennent en charge à la fois Visa Credit et MasterCard Credit:
Pour vous faire gagner du temps, nous n'affichons que les casinos qui acceptent les joueurs de Virginia.
Si nous sommes allés trop vite, vous pouvez consulter ici.